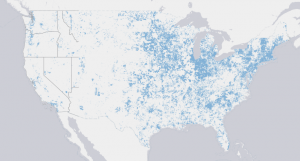 On February 17th, the National Telecommunications & Information Association (NTIA) released two resources that will add more fuel to the already raging fire surrounding the issues of broadband availability and adoption.
First, NTIA released the results of an historic undertaking by federal and state level stakeholders to document broadband availability in the United States. The result – the nation's first interactive map of broadband availability – is as visually stunning as it is revealing of the current broadband marketplace. According to the NTIA, some form of broadband – be it via a wire (e.g., DSL or cable) or wireless (e.g., 3G mobile) connection – is available to approximately 95% of Americans.
This is great news for the country as a whole. Ready access to broadband is essential to realizing the many goals for this technology outlined in the Federal Communications Commission's visionary National Broadband Plan and to assuring that the U.S. remains competitive in our rapidly globalizing economy.
On the other hand, NTIA's map serves as a reminder that millions of Americans still remain without access to broadband. Network buildout to rural areas has been robust over the past decade, but gaps in coverage remain. Fortunately, the FCC recently proposed changes to the Universal Service Fund (USF) that would shift the focus of this program to encompass broadband. If adopted by the Commission, these proposals would create new economic incentives for broadband service providers to deploy networks in unserved areas. These incentives must be carefully drawn in order to protect against the type of waste that has long plagued the current version of the USF.
The second item released by NTIA last week, however, should give us pause. The February 2011 update of NTIA's ongoing Digital Nation series is depressing reading for those concerned about broadband adoption. Even though the overall broadband adoption rate continues to inch higher every year, African-Americans, Hispanics, and low-income Americans continue to lag behind the rest of the country when it comes to adopting broadband. Half of all African-Americans and 55% of Hispanics have yet to adopt this technology at home. These findings echo data released by NTIA in November 2010, which found that a significant component of the digital divide is attributable to racial factors.
Once again, the federal government has done a great job of grounding in new data a dynamic that MMTC and many others have long discussed – that 15 years after NTIA's first report on the digital divide, the same impediments and barriers to robust broadband adoption among minorities and low-income households persist. What are we as a country to do to address such a seemingly intractable problem?
A significant first step was taken in 2009 when Congress allocated over $7 billion in stimulus funds for broadband purposes, including hundreds of millions dollars to support education, awareness, and adoption efforts. These funds have since been awarded to an array of programs across the country focused on increasing the adoption rates within specific communities. One of the largest and most ambitious of these efforts is being spearheaded by One Economy in partnership with MMTC and the Broadband Opportunity Coalition (BBOC). This multifaceted program will include a nationwide public awareness campaign targeting 20 million non-adopting minorities and low-income households in over 20 states. These efforts will be bolstered by NTIA's new map and other resources that it has made available.
Moving forward, we must pay additional attention to the long-term sustainability of effective broadband adoption programs. The digital divide will not disappear overnight. NTIA reports that 28 percent of all persons in the United States do not use the Internet at any location.
This is unacceptable in the 21st century.
We need a mechanism that supports efforts to create awareness, demand, and adoption of broadband in discrete user communities. USF reform efforts should include a carve-out for adoption-related allocations. Some funding, via a modernized Lifeline-Linkup program, should go to subsidize broadband connections for low-income Americans. Perhaps this model could be expanded to encompass efforts targeting other under-adopting groups, including minorities, seniors, and people with disabilities.
Ultimately, a stubbornly persistent problem like the digital divide requires a forward-looking, creative, multifaceted solution. NTIA's most recent broadband adoption report is a rallying point for more concerted policymaking efforts by our elected officials. It should inspire more collaborations and partnerships between private and nonprofit organizations across the industry.
MMTC, One Economy, and the BBOC are ready to help lead the way. But we cannot do it alone. We need as much help as possible.
Let's get started.
David Honig is MMTC's President and Executive Director. He co-founded the Minority Media and Telecommunications Council (MMTC) in 1986. MMTC has represented over 70 minority, civil rights and religious national organizations in selected proceedings before the FCC, and it operates the nation's only full service, minority owned media and telecom brokerage.