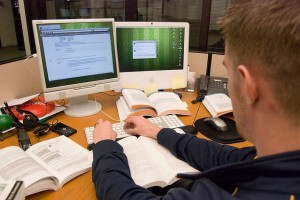 Most people know that distance learning is popular with college students. Every year, more colleges and universities offer online education, and every year more students sign up. College students love the flexibility and are satisfied with the education they receive online and in blended online/classroom courses.
Most people don't know, though, that many states have something similar at the K-12 level. These online programs get little attention but they are successful and are growing.
Florida has the largest K-12 online school program in the nation and one of the oldest. Since its launch in 1997, the Florida Virtual School has grown to more than 100,000 students in kindergarten through 12th grade. That's a lot of online learning.
At first, the Florida Virtual School was optional — students were not required to take courses. But that changed last October, when the Florida Legislature became the first to pass a mandate that required students to take at least one online course before they graduate.
In theory, the online-education requirement was viewed as a good policy. It could teach K-12 students how to learn in an online environment, a skill they will need once they go to college. It could also reduce the cost of education, as K-12 online instruction is less expensive than traditional schools.
But there is an obvious problem — you have to have an Internet connection. What about students who don't have Internet access at home?
For students with Internet access, online education creates new learning opportunities. For children in small, rural schools, the Florida Virtual School may be the only way to take certain courses if the school can't hire faculty to teach Latin or Chinese or even physics. The Florida Virtual School offers all those courses, and many more.
Students take courses for other reasons as well. Florida Virtual School reports that 22 percent of its students said they enrolled in order to raise a course grade. Others — 20 percent — indicated they took a Florida Virtual School course so they could graduate on time, and 15 percent said they used online education so they could graduate early.
So the appeal of K-12 online education is strong. The key to the Florida Virtual School's success is that the students live in cities and towns throughout the state. You can take courses from anywhere.
Well, as long as you have an Internet connection. But many families do not have a broadband connection in their homes.
An NTIA study showed that broadband access at home is common for households with incomes of $100,000 a year or more, but it is uncommon for families making $25,000 or less. These poorer families simply can't afford it.
This is a problem the Florida Legislature needs to address. Online education works — it works in college and it works at the K-12 level, too.  But it doesn't work if you can't get access to the Internet.
This is not just a Florida problem, as other states, including Alabama and Virginia, have followed Florida's lead. And no state is immune from the digital divide — some people have Internet access, and some people don't.
There are ways around this. Students can go to a friend's house, perhaps, or they can go to a library. But libraries are busy places nowadays, especially the library computers, with so many out-of-work Americans going online for job searches. And, of course, budget cuts mean libraries have to cut their hours. Access to the Internet at the public library is limited.
And do we want to require students to take a course that makes them stand in line at the library at night to do the work? I don't think that's fair. I think that puts these children at another disadvantage.
Expanding online education is a good idea. To make it work for everyone, we need to make broadband affordable and universally available.