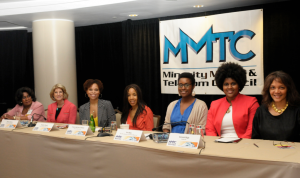 The Minority Media and Telecommunications Council recently held its first "Five Decades of Entrepreneurial Women" panel at its 10th Annual Access to Capital and Telecom Policy Conference. The highly lauded event brought together five successful women entrepreneurs to share their experiences and words of wisdom about entering and increasing viability in the media and telecommunications industries.
Peering into the male-dominated media and communications industries, women are extremely far and few between.
The National Organization for Women reports that in the United States, women own just six percent of commercial broadcast TV stations and six percent of all full-power commercial broadcast radio stations. Additionally, women comprise less than one-fifth of newspaper presidents, publishers, and CEOs, as well as 15 percent of top executives and 12 percent of board members at Fortune 500 communications companies.
MMTC took the opportunity to introduce to the public five women who over the past fifty years have exemplified the strong character, wisdom, and leadership factors for which other notable women like Oprah, Cathy Hughes, and Arianna Huffington are known.
MMTC's panel – which was moderated by Politic365 Editor-In-Chief Kristal High – featured Punch Media Group Founder and Digital Media Strategist Lauren DeLisa Coleman; Wilco Electronic Systems Executive Vice President Brigitte Daniel; Consumer Policy Solutions President Debra Berlyn; Publisher and Editor-In-Chief of The Florida Star and The Georgia Star Clara McLaughlin Leath; and Producer, Writer, and Director of the hit Web series "The Mis-Adventures of Awkward Black Girl" (ABG) Issa Rae.
Why U.S. women own fewer businesses
Currently, there are about 7.8 million women-owned businesses in the United States, which is a low amount considering that nearly 27 million businesses exist in the nation.
Earlier this year, a women's entrepreneurship scholar suggested three reasons why there are generally less women-owned businesses:
"Fewer women than men believe there are lots of opportunities for entrepreneurship."
"Women are also more likely than men to be dissuaded by fear of failure."
"Women are less likely to know an entrepreneur personally."
At MMTC's conference, the "Five Decades of Entrepreneurial Women" panelists offered several suggestions to encourage other women entrepreneurs to be successful despite these barriers.
Women have to believe there are many entrepreneurship opportunities available
Recognizing how the digital convergence was transforming American culture, Coleman, who admitted that she started her digital media enterprise while working for MTV, said she had to think outside the traditional entrepreneurial box to realize that she can make a substantial contribution to society.
"Always check in with yourself, and find out if you're thinking in a large enough way or [if] there [are] other opportunities or… any other ancillary kind[s] of projects that can be done," Coleman recommended. "There's so much happening right now, and we don't know where any of this is going."
Women should conquer their fear of failure
As a Howard University student in the late 1960s, McLaughlin Leath spearheaded efforts to establish the Journalism major at the university's School of Communications – and she was successful.  In spite of this, many men – white and African American – doubted her abilities to do more.  Unafraid, McLaughlin Leath obtained four permits in the 1980s and bought a schoolhouse in East Texas to accommodate her new entrepreneurial endeavor, becoming the first African American woman owner and CEO of a network affiliated TV station. McLaughlin Leath also credits having the courage to seek people who are willing to help for her success.
"To me, it's always been do what you have to do," she said. "If you have people to help you, […] get people to help you."
Rae, who revealed her initial reluctance to ask people for help, shared her experience about letting go of her pride and asking thousands of viewers to help finance ABG. People suggested that she and her staff increase their initial fundraising goal of $5,000 to $30,000 and use the digital social fundraising tool Kickstarter as a funding platform. Rae and her team ultimately raised $56,000.
"For people who have tech projects, [Kickstarter is] just amazing," Rae said. "People are paying for what they want and there's such an advantage out there."
Additionally, veteran consumer technology advocate Berlyn learned early on in her career that she should "not be afraid to toot her own horn." She thinks that women, particularly when they are starting out, are afraid to tell others about what they do well.
"Women, don't be afraid to […] let people know that you're doing good work," Berlyn said.
Women should secure a variety of mentors
To start her TV station, McLaughlin Leath said it did not matter if the people who helped her were black, white, male, or female.
"You can't do it by yourself. You must have mentors," McLaughlin Leath said.
Daniel, who does not consider herself a traditional entrepreneur like her fellow panelists, agreed that mentorships and relationships are vital to the business her father began more than 30 years ago.
"Relationships are, particularly as a private cable operator and one of the last remaining minority-owned cable operators in the country, are what we have to survive," Daniel said. "The ability for me to create mentorships is the only way we'll really be able to stay relevant and also be able to leverage our history to then innovate into a new type of generation for our business."
You can watch the "Five Decades of Entrepreneurial Women" panel and hear more words of wisdom here.
Tiffany K. Bain is a 2011 public relations graduate of Florida A&M University. She currently serves as the Minority Media & Telecommunications Council's Research Associate. She got her start in the industry in 2007 as an Emma L. Bowen Foundation intern at the nation's leading cable provider.