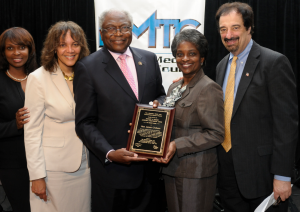 The Minority Media and Telecommunications Council recently hosted its Hall of Fame Reception at the Georgetown Westin in Washington, D.C., during its 10th Annual Access to Capital and Telecom Policy Conference.  MMTC established these awards to recognize individuals and organizations for their commitment to advancing diversity and inclusion in media and telecommunications.
At this year's event, sponsored by online news magazine Politic365, MMTC did something a little different: The evening was accented with live jazz by musician Marcus Johnson's Three Keys Music and FLO Brands.
At the reception, MMTC presented the Everett C. Parker Lifetime Achievement Award to Rep. James E. Clyburn of South Carolina.  FCC Commissioner Mignon Clyburn, Congressman Clyburn's daughter, presented the award, describing her father's life of achievements and stating that it epitomizes the definition of public service.
After accepting the award, Congressman Clyburn challenged audience members to think about Everett Parker and his activism in media and telecommunications as they carry out their civic duties in the next weeks and months leading up to the presidential election.
"I hope that my work is a good sermon to others," said Congressman Clyburn.
MMTC created the Everett C. Parker Lifetime Achievement Award to commemorate and pass on the legacy of Parker, who, through his media advocacy work during the civil rights era, is credited with setting precedent that gave the public the right to challenge a broadcast license through the FCC if it did not serve the public interest.
Since 1998, the MMTC has conferred the award upon notables such as Andrew Jackson, Marie Johns, Marc Morial, Johnnie Cochran, and Cathy Hughes.
During the reception, MMTC also announced its 2012 MMTC Hall of Fame Inductees: David Grain, founder and managing partner of Grain Management, LLC, and Louisianan State Senator Sharon Weston-Broome, who also serves as president of the National Organization of Black Elected Legislative (NOBEL) Women.
MMTC President David Honig presented Hall of Fame Inductee David Grain with his award, remarking on the telecommunications entrepreneur's outstanding career. Grain stated that it was a privilege to be honored the same night as Congressman Clyburn and echoed Clyburn's remarks, maintaining that there are unprecedented opportunities to participate in wireless expansion and encouraging the audience to become involved in those efforts.
U.S. Congressman Cedric Richmond presented the Hon. Sharon Weston-Broome with her award. Richmond thanked Weston-Broome for taking him under her wing and mentoring him. Weston-Broome accepted the award sharing a lesson she teaches to her students at Southern University: "Don't allow the advancement of negative stereotypes in media. Be an advocate in your own right."
At the close of the reception, MMTC invited attendees to a post-awards discussion hosted by the National Association of Multicultural Digital Entrepreneurs (NAMDE), which also co-sponsored the Entrepreneurship Boot Camp on day one of the conference. This informal session examined barriers to entry for female and minority entrepreneurs.
A video on the awards reception can be found here.