Infographics are a powerful new tool that have taken the Web by storm as an effective way to get across important and often alarming information. OnlineMBA.com has shared this one with BBSJ. We thank Jen Rhee for the submission.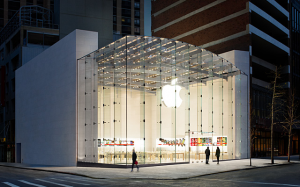 In the modern world of retail businesses, it's safe to say that Apple's success is a cut above the rest. From iPods to iPhones to iPads and more, the Apple empire has surged into a solid and undeniable place of power over the past decade. If you're pursuing an MBA, whether or not you plan to seek a business venture in the technology field, Apple's company model stands as one of the most noteworthy in today's corporate arena. Apple brings in astounding amounts of revenue from all over the globe, and today it's the most profitable public company in the world.
The following infographic examines a single, crucial element in Apple's enormous success; namely, their physical retail locations. If you're like a billion other people in the world, you've probably been into one of Apple's stores in the past year. With close to 400 stores all over the world, Apple's retail space is the most profitable per square foot compared to any other company. Apple's in-store sales don't just top others, they trounce the competition by a landslide. No matter what field of business you plan to find yourself in, entrepreneurs the world over will certainly be able to appreciate that when it comes to bringing in the bucks, nobody does it like Apple.