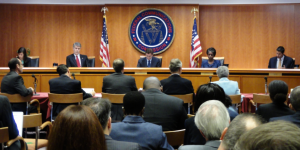 Three current and one former Federal Communications Commission (FCC) Commissioners attended the recent NABOB conference to discuss important items on the FCC's agenda and what they will mean for the state of minorities in broadcasting.
Commissioners Mignon L. Clyburn and Ajit Pai were featured guests at a panel titled "Dialogue with Commissioners," while former Commissioner Michael Copps was a featured guest at a panel titled "Washington Update: What is Washington Going to Accomplish Before and After Election 2012?"  Commissioner Robert McDowell was honored for his work to curb advertising discrimination at a luncheon event.
The Commissioners' remarks addressed several salient issues in the communications industry, including voluntary incentive auctions, the Commission's review of its media ownership rules, and various proposals submitted to the Commission to increase communications industry diversity.
Voluntary Incentive Auctions
Commissioner Pai contended that creating the rules for the Commission's voluntary incentive auctions (which aim to free up more spectrum for mobile wireless use), would be the "most complicated auction that our country has undertaken."  He stated there needs to be broad public participation and that "four basic principles" should guide the auction rulemaking process: (1) being faithful to Congressional law that authorized the auctions, (2) implementing the auction in a manner that is "fair to all stakeholders," (3) "keeping the rules as simple as possible," and (4) ensuring that the Commission "completes" the rulemaking process in an "orderly timeframe."
Quadrennial Media Ownership Proceeding
Responding to a request for status on when the Commission's current media ownership rules review will conclude and what an order memorializing it might contain, Commissioner Clyburn stated the Commission was "currently preparing a draft for the next iteration."  Pai said he hoped the review would conclude by year's end.   Providing a "guess" as to what it would contain, Clyburn said it might retain many of the existing media ownership rules, but "look at repealing the TV [newspaper] cross ownership rule in its entirety."
McDowell maintained that it was "time to get rid of the newspaper-broadcast cross-ownership ban," contending that "it may serve the opposite of its intended effect."  According to McDowell, relaxing the rule would facilitate "new investment dollars to flow to newsrooms, instead of to the virtually unregulated new media market."
Pai said he hoped that the Commission's media ownership rules would conform to some of the Commission's "core" objectives.
"My hope is that it will accomplish two basic goals.  Number one, it will make sure that the rules we have in place reflect the realities of the marketplace today.  Some of the rules that we have currently were adopted in 1975 … you know better than I do that a lot has changed in the media landscape since 1975," said Pai.  "Secondly, I hope that whatever rules are proposed to be changed or retained, that those rules remain true to our core principles of diversity, competition, and localism. Those aren't just statutory requirements, those are important principles that I think the FCC needs to keep in mind as it takes a look periodically at the media ownership rules," he said.
Diversity Proposals
Commissioners Clyburn and Pai were asked about their knowledge of the status of various proposals submitted to the Commission by its Advisory Committee for Diversity in the Digital Age.  Clyburn said she did not "know exactly in terms of timetable and rollout where recommendations are," but maintained that the Commission planned to "extend the life of the Committee." Pai said he hoped that the Commission would examine the proposals and incorporate them.  He also expressed favor on a proposal to relax the Commission's rules concerning foreign investment in broadcasting.  He said the rule was "restrictive," and did not help facilitate access to capital for minority broadcasters.
Copps said that while "stakeholders have come up with dozens of proposals over the years," the Commission has failed to act on them.  At the Commission, Copps said he proposed that every proposal receive a vote each month.
State of Diversity in the Industry
In his remarks, Copps also provided his thoughts on the dearth of diversity in the industry. "We will not have the kind of diversity in the industry until we do something about minority ownership," he said. "Ownership matters big time." Copps also remarked that he continues to be "appalled at the lack of priority of issues related to diversity."
"We must take these issues to the grassroots," said Copps. "Reforming media is the civil rights priority of today."
Kenneth Mallory is an award-winning journalist and attorney who has freelanced for several publications, in addition to serving as a general assignment reporter for the Washington Afro-American Newspaper. He earned his B.A. magna cum laude from University of Maryland, Baltimore County, in addition to his J.D. from Northwestern University School of Law.